I've turned tee shirts into scarves on here before
but I couldn't resist doing it again but this time with out the fringe and added style. I was going to get rid of this tee shirt that I found at the thrift store but I decided to keep it and turn it into something I'll use instead. I like the simplicity and the edge to it. There are so many things you can do with old tee shirts.
Materials:
One old rockin' tee shirt
Rotary cutter or scissors
Pins
Sewing machine
Tutorial:
Lay your tee flat and cut off the neck and sleeves. You don't have to cut along the sides of the tee shirt. You can leave them in tact for less sewing. It will also make it easier to stretch it at the end if you don't cut it then sew it up.
Turn the tee inside out.
Pin the angles together where you cut the sleeves off.
Sew it up. Don't accidentally sew the neck shut; leave it open.
When you're finished sewing turn it back right side out and bunch together. This is will make it easier to stretch.
Stretch the tee all of the way around making sure the stretch the unfinished edges so that they roll.
Done!
Now you can wear it any way you like. Mix it up with another scarf, dress or leather jacket. I will just rock mine with a plain tee and jeans and some black boots. I think it would look great with some minnetonka moccasins. They are still very much on my wish list. I have them all picked out ready to purchase. I just need to do it. I don't know what I'm waiting for.
Linked up here: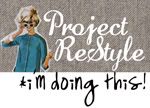 More DIY? Click
HERE
!!